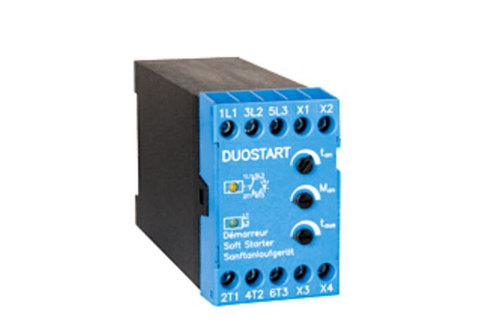 Product Description
Soft starters :
Our optimal range of Motor Soft Starters 3RW24 are the digital electronic motor controllers and the multi serviceable electronic system that provide controlled level of starting current and smooth acceleration for the usage in three phase non-synchronous motors. Apart from their primal functions, these are also accoutered to safeguard the motors under several fault conditions. With their advanced start & stop properties, developed fault diagnostics and comprehensive protections the controllers have the maximal flexibility to cater any type of load demand. The range of Motor Soft Starters utilizes 6 thyristors, in which each phase incorporates two thyristors in anti-parallel contour. The voltage is applied to the motor by altering the thyristor conduction interval and thus the motor starting torques are accordingly controlled. Two variations are available viz. Inside Delta connection (6-wire system) and Line connection (3-wire system).

Features and Key Points:

Utilized with AC electrical motors to temporarily decrease the load and torque in the electric current surge and power train of the motors at the time of start-up.
Cut down the mechanical tension on the shaft and motor, as well as the electrodynamic accents on the connected power cables, can be constituted to the demands of the individual application.
Trim down the electrodynamic stresses, control the acceleration of electric motors by way of controlling the applied voltage, extend the life-time of the system.
Can be integrated with electrical or mechanical devices, or a collection of both.