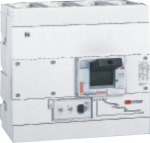 Product Description
We offer various types of Molded Case Circuit Breakers, which are the automatically operated electrical switches configured to protect the electrical circuits from damage originated by overload, over current and short circuit. The primary function of the products is to disrupt the current flow after protective relays find a break. The products meet the varied demands of our valuable customers and are far-famed for their distinguished quality and progressive design. Used to give circuit protection in alternate energy, industrial, mining, commercial and military applications, these provide protection against short circuits and overloads in conductors. Available in various amperes capacity range, these Molded Case Circuit Breakers are appropriate for singe pole, double pole, three pole and four pole supported systems.

Features and advantages:
Wield electromechanical (thermal magnetic) trip units, which may be fixed or replaceable, available in compact arrangements that free up the panel space.
Give protection by combining a temperature sensitive implement with a current sensitive electromagnetic instrumentality.
Patented contact designing feature advanced-speed and blow-open activity, resulting in first-rate performance, feature field fit adjuncts.
Advanced trip unit functionality offers a wide range of adjustment for maximum flexibility, space-saving.