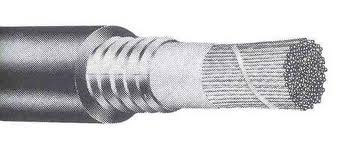 Product Description
Jelly Filled Telephone Cables :
Functional and trenchant communication has an essential role in the economic development of every country. With this concept, our company is dealing in Jelly Filled Telephone Cables to cater the varied requirements of Telecommunication field. These polyethylene insulated telephone wires are in compliance with the standards of Indian Telephone Department. The products are integrated with well-informed equipments and find applications in the Department of Telecommunication. and some prestigious public sector projects such as Defence, Railways, Mtnl, Steel Plants And Fertilizer Units. The exclusive range of our Jelly Filled Telephone Cables stands as the compendium of essential telecommunication compounds, which make the communication life moving by avoiding technical obstructions.

Features and advantages:

Cable core covered with polyester tape to instrumentality of heat resistant barriers.
Tempered pure copper wire insulated with HDPE (High-density polyethylene).
Applicable for local communication network, appropriate for direct buried, duct or aerial utilization.
Aluminum tape covering, each is integrated with two various color insulated wires contorted together to a brace.