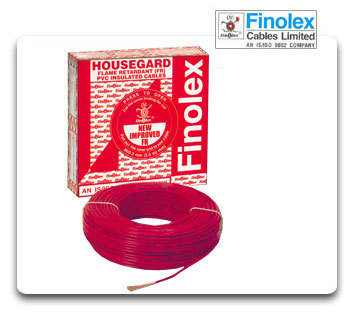 Product Description
Flame Retardant Insulated Wire :
Finolex has introduced - Housegard PVC insulated electrical wires, a next solution for safety. The quality of each wire is very high, while the wire is being manufactured care is taken that the copper which is used is 99.97% pure with electrolytic grade, annealed and has 100% conductivity. Copper that is pure and with good conductivity is expected to save electrical energy and thus helps to reduce electricity bills, the copper utilized for making wires is manufactured in-house at Goa.

Special grade PVC resin is used to prepare PVC compound used for the insulating wires, as the resin has high oxygen and temperature index, which offers high insulation resistance and dielectric strength.

These ISI marked PVC insulated wires meet the requirements of IS 694: 1990. This means extra protection against electrical shocks, short circuits and fires. The wires also have FIA/TAC (Fire Insurance/Tariff Advisory Committee) approval.