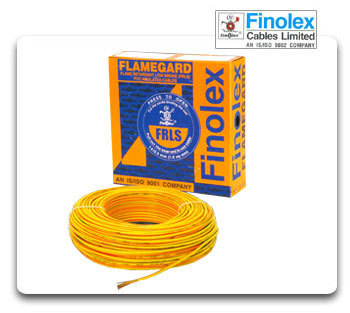 Product Description
For the first time in India, Finolex brings "Flamegard" Flame Retardant Low Smoke (FRLS) electrical wires. Finolex Flamegard Cable is manufactured by using electrolytic grade copper to ensure superior conductivity. Insulated with FRLS PVC compound formulated and manufactured in-house, Flamegard has a special flame retardant, low smoke emitting and toxic fumes suppression properties, in addition to the properties required by IS 694 : 1990.
During a fire, ordinary PVC insulated wires give out thick black smoke and toxic fumes of hydrochloric acid gas. This impairs visibility and hampers rescue operations. Flamegard, on the contrary, not only emits very little smoke and toxic gases, but also retards the spread of fire. It is thus ideal for concealed and conduit wiring in multi-storied high rise buildings such as hotels, banks, hospitals, factories, commercial and residential complexes, etc.
Finolex Flamegard Cable goes through rigorous tests to ensure the highest standards of quality. It is also backed by the Tariff Advisory Committee and Fire Insurance Approval. For unique identification these wires are provided with an orange stripe, on request. These wires are manufactured in our state-of-the-art manufacturing plants at Pimpri (Pune) and Verna (Goa).